LIECHTENSTEIN INSTITUTE FOR STRATEGIC DEVELOPMENT
Time is of the essence for sustainable development and resilience: we make the rapid deployment of regenerative infrastructure work.
ACTIVITIES
We are active in four programmatic modes:
EXPERTISE
WHO WE ARE
We at Liechtenstein Institute for Strategic Development help prepare private and public entities to become more resilient to climatic, energetic and economic changes. We guide their transformation in a manner, which increases both the ecological and economic value of their infrastructure to mitigate against and adapt to climate change. We develop urban and regional energy master plans and provide sustainability advice on urban development projects. A particularly important aspect of our work is geared towards effective strategic and operational large-scale urban development advice.
MISSION
We formed in response to a global recognition that major planetary indicators point not only to a necessary transformation in human settlement development and search for rapid strategies in fighting climate change tipping points and biodiversity collapse but also to the need to strengthen factors critical for human civilisation, its prosperity, innovation and development.
We recognise that isolated sustainable approaches are prone to slow uptake, errors and even failure. It pursues Rapid Regenerative Infrastructure Deployment (RRID) by integrating science, engineering, economics and finance with city, regional and infrastructure design, community planning and development.
FOR WHOM
We work for cities, towns, regional organisations, international aid bodies and private companies focused on the business of sustainable urban and regional development. Each project, every initiative is pursued with meticulous care, energy and attention to the need of client organisations, companies and communities. We do not apply standard techniques: each approach is custom tailored to specific needs and objectives, using global best practice and expertise.
Local and international experts form our core, provide guidance and leadership. They work together in sourcing and managing projects, based on tailored agreements. Our experts have worked with regions, cities and towns, local, state and national governments, the IEA, IPCC, UNDP, UNECE, UN Habitat and a number of other international organisations.
LATEST NEWS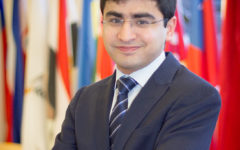 Indian renewable energy innnovation LEAP Fellow
We at LISD are delighted to welcome Indian renewable energy innnovation LEAP Fellow Sookrit Malik. Delhi-based Sookrit will be involved in microrid based fossil-fuel replacement projects, and coach our Nigeria based renewable energy advancement team in grassroots and small-industry based renewable power introduction schemes, to the point where these become viable.

Sookrit is the founder of Energeia, a smart microgrid company, which provides cleaner, cheaper and more reliable energy to industries in developing countries. He has been a part of a number of service projects in villages, slums and conflict areas. He was awarded The Impact Award by The Global Education and Leadership Foundation for his work.
LISD virtual internship beneficiary and LEAP Fellow
LISD welcomes young Ghanaian renewable energy and climate scholar Sarpong Hammond Antwi as virtual internship beneficiary and African LEAP Fellow for 2018.
Sarpong is an MSc Energy Policy student of the Pan African University Institute of Water and Energy Sciences (PAUWES) in Algeria. He has experience in community development, facilitation and mobilization. In 2016 he was awarded the best volunteer by the National Youth Authority of Ghana-Upper West Region and now serves as the co-founder of PAUWES Climate Change and Environmental Community. This year, he will work with LISD on African Energy, Biodiversity Protection, Urban Energy Transition, and Research Program Development.
Invitation to the ERA-Net Smart Energy Systems Conference
Professor Peter Droege is invited to speak at the ERA-Net Smart Energy Systems Conference and associated events 22-25 May 2018 at the Nordic Clean Energy Week in Malmø, Sweden. ERA-Net SES is the joint programming platform of countries and regions in the European Strategic Energy Technology Plan (SET-Plan) Key Action 4, "Increasing the resilience and security of the energy system", jointly conducted with the European Commission. Theme is From Local Trials towards a European Knowledge Community. Professor Droege will represent EUROSOLAR.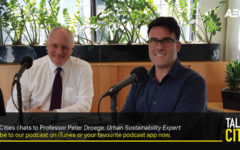 Episode of TalkingCities with Prof. Droege, live on 22nd May
James Rosenwax of AECOM chats with award winning author, international urban sustainability expert Professor Peter Droege about renewable energy technology advancements and Sydney's path and progress to energy neutrality. Discussion also focuses on low carbon vs carbon neutrality and the dirty truth about fossil fuels.
This episode of TalkingCities goes live on Tuesday 22nd May. You can find it on ITunes or your favourite PodCast app.
COMMISSIONS & MEMBERSHIPS