LIECHTENSTEIN INSTITUTE FOR STRATEGIC DEVELOPMENT
Time is of the essence for sustainable development and resilience: we make the rapid deployment of regenerative infrastructure work.
ACTIVITIES
We are active in four programmatic modes:
EXPERTISE
WHO WE ARE
We at Liechtenstein Institute for Strategic Development help prepare private and public entities to become more resilient to climatic, energetic and economic changes. We guide their transformation in a manner, which increases both the ecological and economic value of their infrastructure to mitigate against and adapt to climate change. We develop urban and regional energy master plans and provide sustainability advice on urban development projects. A particularly important aspect of our work is geared towards effective strategic and operational large-scale urban development advice.
MISSION
We formed in response to a global recognition that major planetary indicators point not only to a necessary transformation in human settlement development and search for rapid strategies in fighting climate change tipping points and biodiversity collapse but also to the need to strengthen factors critical for human civilisation, its prosperity, innovation and development.
We recognise that isolated sustainable approaches are prone to slow uptake, errors and even failure. It pursues Rapid Regenerative Infrastructure Deployment (RRID) by integrating science, engineering, economics and finance with city, regional and infrastructure design, community planning and development.
FOR WHOM
We work for cities, towns, regional organisations, international aid bodies and private companies focused on the business of sustainable urban and regional development. Each project, every initiative is pursued with meticulous care, energy and attention to the need of client organisations, companies and communities. We do not apply standard techniques: each approach is custom tailored to specific needs and objectives, using global best practice and expertise.
Local and international experts form our core, provide guidance and leadership. They work together in sourcing and managing projects, based on tailored agreements. Our experts have worked with regions, cities and towns, local, state and national governments, the IEA, IPCC, UNDP, UNECE, UN Habitat and a number of other international organisations.
LATEST NEWS
New LISD Publication: Urban Energy Transition – Renewable Strategies for Cities and Regions, 2nd Edition
Urban Energy Transition, 2nd edition, is the definitive science and practice-based compendium of energy transformations in the global urban system. This volume is a timely and rich resource for all, as citizens, companies and their communities, from remote villages to megacities and metropolitan regions, rapidly move away from fossil fuel and nuclear power, to renewable energy as civic infrastructure investment, source of revenue and prosperity, and existential resilience strategy.

"An excellent and timely resource for practice, policy, teaching and research.
This a fresh and sweeping, rigorously scientific and yet extraordinarily applied and practical look at a rising global phenomenon: renewable energy for cities and regions. Beautifully illustrated in full colour, this instills great optimism for this rapidly urbanizing planet, still all too dependent of fossil fuel, and therefore precariously slipping towards climate calamity." Elsevier Verified Reviewer.

* Please visit www.UET2.com for more info, reviews and to order. Enter code ENER318 for 30% off and free shipping!
Award Ceremony of the European Solar Prize 2018
17 November 2018. Kunstmuseum Bonn, Germany

Peter Droege will chair this year's 2018 European Solar Prize ceremony.

Since 1994 EUROSOLAR has recognized outstanding commitment in the field of renewable energy with the annual European Solar Prize. Ground-breaking projects and initiatives from all sectors of society are selected with the purpose of making pioneers and innovators the focus of public awareness and of giving fresh impetus to an energy turnaround that is decentralized and based on renewables.

Having previously been held in Prague, Barcelona and Vienna, this year's edition of the European Solar Prize will be awarded in EUROSOLAR'S hometown of Bonn – within the framework of the 30th anniversary of EUROSOLAR and the associated annual partnership with the city of Bonn.
For more information.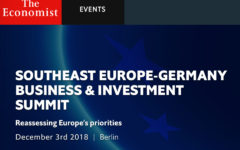 The Economist – Southeast Europe – Germany Business & Investment Summit
3 December 2018. Intercontinental Hotel, Berlin, Germany

Prof. Peter Droege will be part of a business panel discussing issues related to the large-scale projects in Germany and South-Europe, focusing on the topics:

*Infrastructure and transportation,
*Prospects for renewable energy sources, and
*The energy landscape in SE Europe and east Mediterranean.

The discussion will take place amongst a series of panels as part of The Economist Events in co-operation with the Hellenic-German Chamber of Commerce and Industry (AHK) and the valuable support of the Federation of German Industries (BDI) and the Association of German Chambers of Commerce and Industry (DIHK).
For more information.
CRC for Low Carbon Living (CRCLCL) National Forum: The Renewable City – How Perth is Doing with the CRC's Help?
31 October 2018. St George's Terrace, Perth, Australia 

Prof. Peter Droege will set out the global context on how rapidly the world is moving towards low carbon living. In collaboration with CUSP researchers, the Forum will also present the city of Perth's efforts in demonstrating real leadership in the next economy.
Demonstrated through single houses, medium density precincts, local governments, industrial precincts, schools and university campuses, the CRCLCL's research has grown into national studies and international projects as Perth's low carbon innovations have been recognized.
This National Forum will celebrate the latest research accomplished through the CRCLCL and Curtin University Sustainability Policy (CUSP) Institute and their national partnerships.
COMMISSIONS & MEMBERSHIPS