LIECHTENSTEIN INSTITUTE FOR STRATEGIC DEVELOPMENT
Time is of the essence for sustainable development and resilience: we make the rapid deployment of regenerative infrastructure work.
ACTIVITIES
We are active in four programmatic modes:
EXPERTISE
WHO WE ARE
We at Liechtenstein Institute for Strategic Development help prepare private and public entities to become more resilient to climatic, energetic and economic changes. We guide their transformation in a manner, which increases both the ecological and economic value of their infrastructure to mitigate against and adapt to climate change. We develop urban and regional energy master plans and provide sustainability advice on urban development projects. A particularly important aspect of our work is geared towards effective strategic and operational large-scale urban development advice.
MISSION
We formed in response to a global recognition that major planetary indicators point not only to a necessary transformation in human settlement development and search for rapid strategies in fighting climate change tipping points and biodiversity collapse but also to the need to strengthen factors critical for human civilisation, its prosperity, innovation and development.
We recognise that isolated sustainable approaches are prone to slow uptake, errors and even failure. It pursues Rapid Regenerative Infrastructure Deployment (RRID) by integrating science, engineering, economics and finance with city, regional and infrastructure design, community planning and development.
FOR WHOM
We work for cities, towns, regional organisations, international aid bodies and private companies focused on the business of sustainable urban and regional development. Each project, every initiative is pursued with meticulous care, energy and attention to the need of client organisations, companies and communities. We do not apply standard techniques: each approach is custom tailored to specific needs and objectives, using global best practice and expertise.
Local and international experts form our core, provide guidance and leadership. They work together in sourcing and managing projects, based on tailored agreements. Our experts have worked with regions, cities and towns, local, state and national governments, the IEA, IPCC, UNDP, UNECE, UN Habitat and a number of other international organisations.
LATEST NEWS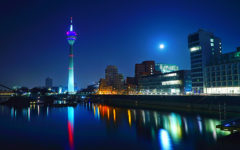 12th IRES Conference, Duesseldorf, 13-15 March 2018
Launch of CEMET
In November 2017 Liechtenstein Institute for Strategic Development commissioned, briefed, guided and coached the University of New South Wales Master of Urban Policy and Strategy to develop a what it originally calls CEMET – a Coal Exit Metropolitan Energy Transition program for Berlin and Brandenburg.
LISD Senior Fellow: LEAP Global Partner
LISD bestows Senior Fellow status to Sherman Teichman, renowned US educator, academic activist and investigative research leader, founder of the Institute for Global Leadership (IGL) at Tufts University in Massachusetts. Mr. Teichman is LISD's partner in charge of LEAP, the cutting edge LISD Embedded Practitioner and Action Program.
European Green Australia Summit 2017
Peter Droege opens and hosts our inaugural European Green Australia Summit at the Australian Embassy in Berlin, Germany, on 10 Nov 2017.
COMMISSIONS & MEMBERSHIPS